Christmas gifts for those who deserve a good night's sleep
Posted by Ann Holmes on

Tags: ausB, gifts, sleep, Xmas
Looking for something a little more action packed? Check out our Christmas Gifts For Those Who Love Making Noise


We can all think of at least one person who deserves to chill out, put their feet up, and get some well-earned rest this Christmas. Whether it's a new parent, your workaholic sibling, or a travelling friend, give them the chance to be a little self-indulgent over the festive period with an Earjobs gift.
Here are a few great ideas for anyone who needs a good night's sleep or simply a little bit of self-care. You may even want to treat yourself- after all, it is the season for giving!
Approximately 4 in 10 of the Australian population has trouble getting a good night's sleep which can affect energy levels, productivity, mood, and appetite during the day. To help those you love to get some rest at bedtime, gift them a pair of reusable Alpine SleepSoft earplugs.
Made of exclusive AlpineThermoShape™ material, these earplugs can be worn comfortably throughout the night without irritation - even for side sleepers.
Users don't need to worry about missing the doorbell or the alarm clock ringing, either, as the AlpineAcousticFilters™ only block out ambient noise and snoring. One Earjobs reviewer said: "These are really comfortable for a side sleeper and do muffle out sounds, but still allow you to hear things such as your alarm. I love taking these on travelling trips and I use them daily because of the comfort level and ability to re-use." Take a look at the Alpine SleepSoft Earplugs here.
While it is true that white noise machines are great for helping babies to sleep, they work just as well for adults, too. This white noise machine from Lectrofan plays naturally soothing sounds to which mask unwanted noise from the traffic outside or the TV in the next room. While most white noise machines have a choice of just two or three repeating sounds, this fantastic Lectrofan product has a selection of ten to suit absolutely every taste.
This machine is small so it fits on any bedside table or shelf and is powered by a USB plug that can be plugged into any laptop, computer, or into the provided wall adapter. The controls are simple and easy to use with two sound settings- one for fan sounds and one for white noise. Simply press to rotate through all ten to find the perfect tune to drift off to and power on with the sleep timer to automatically set the LectroFan® to turn off after 60 minutes.
Buy the Lectrofan white noise machine here.
SleepPhones Wireless Headphones
We all know someone who spends a lot of their time on planes, whether for work or pleasure. While this can seem like the perfect lifestyle on the outside, plane travel can make it super hard to sleep. Whether they're dealing with jet lag or crying babies, travellers very rarely get a quality snooze. SleepPhones, however, is aiming to change this with its wireless Bluetooth earphones.
These sleep earphones are composed of a super soft fleece headband with removable speakers inside to allow the wearer to relax and listen to music before nodding off. The device can stream music from up to 30 metres away and offers up to 6 hours of battery life. You can even choose from the standard Fleece material or Breeze- a soft, lightweight, stretchy material that disperses heat and keeps the wearer feeling cooler at night. Check out Sleepphones Wireless Headphones here. The brand also sells a wired version of the headphone set if you're looking for something a little cheaper that still does a great job. Click here to view it.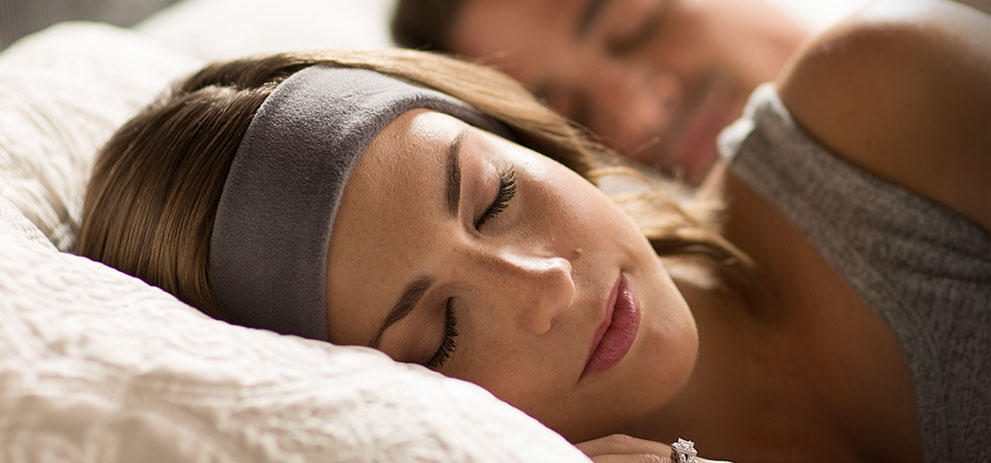 The average adult should be aiming for 8 hours of restful sleep each night. While this may seem easy for some, others find it very hard to fall (and stay) asleep, and typical white noise machines can get boring to listen to after so long. The Avantek White Noise Machine has 6 white noise sounds, 6 fan sounds and 8 other different ambient sounds to make sure the user can find the perfect track for a great sleep every night. Through the use of state-of-the-art technology, this machine produces soothing, natural sounds that drown out distracting and unwanted noise.
It's also super easy to skip tracks, adjust the volume and even set a timer on the machine so it isn't playing unnecessarily throughout the night. Simply choose your desired sound and volume level, set the timer, and fall asleep to soothing sounds. One Earjobs reviewer said: "Excellent! Glad I purchased this. This machine has helped me have a comfortable and restful sleep, especially during the painfully still and quiet Spring nights." Check out the Avantek White Noise Machine here.
Many struggle to find earplugs that fit well inside the ear and are comfortable enough to wear throughout the night - and that's why we created our super affordable wax earplugs. Able to easily mould to the wearer's unique shape, these earplugs ensure a comfortable, snug fit that will block out loud sound for a great night's sleep. Simply remove all cotton wool for the wax, warm by kneading, then insert and mould into the ears. Earjobs reviewers said these earplugs are 'super comfy', 'awesome', and the 'best earplugs available'.
We understand that buying earplugs as a gift can be difficult if you're not sure about sizing - which is why these wax earplugs are perfect. They're not only sure to fit every ear but won't flare up the skin like some traditional silicone options either. These wax earplugs also double up as great for swimmers, too, as when moulded properly will act as an airtight seal against water.
For a super Christmas gift, you could purchase our earplug subscription for a loved one which will make sure they're always fully stocked on their favourite ear protection. You'll also save 10% by subscribing. Check out our very own wax earplugs here.